On December 10th, 2021, Africa Women Rising (AWR) was unveiled. This official launch was
necessary because we were operating under the old name Crown Women Rising (CWR-Gh) but
has expanded our operations to cover the whole of Africa, hence the name change.
We, therefore, needed to have an official launch of the new name to ensure both management
and Associates of AWR are on the same page. The Unveiling and exhibition was organized under
the theme 'Women Empowerment and the Link to Sustainable Development in the midst of the
COVID-19 Pandemic'.
This theme was carefully chosen because we realized a lot of businesses especially women
businesses were still reeling under the effects of the pandemic.
In our bid to encourage and motivate these women to still believe in themselves despite the
challenges posed by the pandemic, a few high-achieving women were invited as guest speakers
to share their stories with the women. These women included the following;
Ms. Constance Swaniker of Accents & Arts.
Mrs. Janet Abobigu of Unijay Ghana Limited.
The event started at 8 am with the registration of invited guests and exhibitors. Dr. Agyapomaa
Kuffuor who was the MC introduced herself as a woman entrepreneur, advocate and an
academician. She also welcomed everyone to the event and briefly explained the reason for the
gathering. She stated that although everyone had been invited to the launch of a new name, our
commitment towards empowering women has not changed, it has rather increased because we
are no more focusing on Ghanaian women only but also on African women.
The MC Dr. Kuffuor then welcomed the Founder &CEO of AWR, Rev Mrs. Nana Sekyere to share
the reason for the name change. In her speech, Mrs. Sekyere acknowledged the gathering,
thanked the sponsors for their support and reaffirmed the commitment of the organisation to
the empowerment of women. She stated that we still believe in our 3Es i.e.
In her acknowledgment, she was especially thankful to Mr. Akwesi Sarpong, CEO of Vulcan for
believing in CWR -Gh through to now AWR. She was grateful for his support in 2020, where he
almost singlehandedly sponsored the annual programme.
REV MRS NANA SEKYERE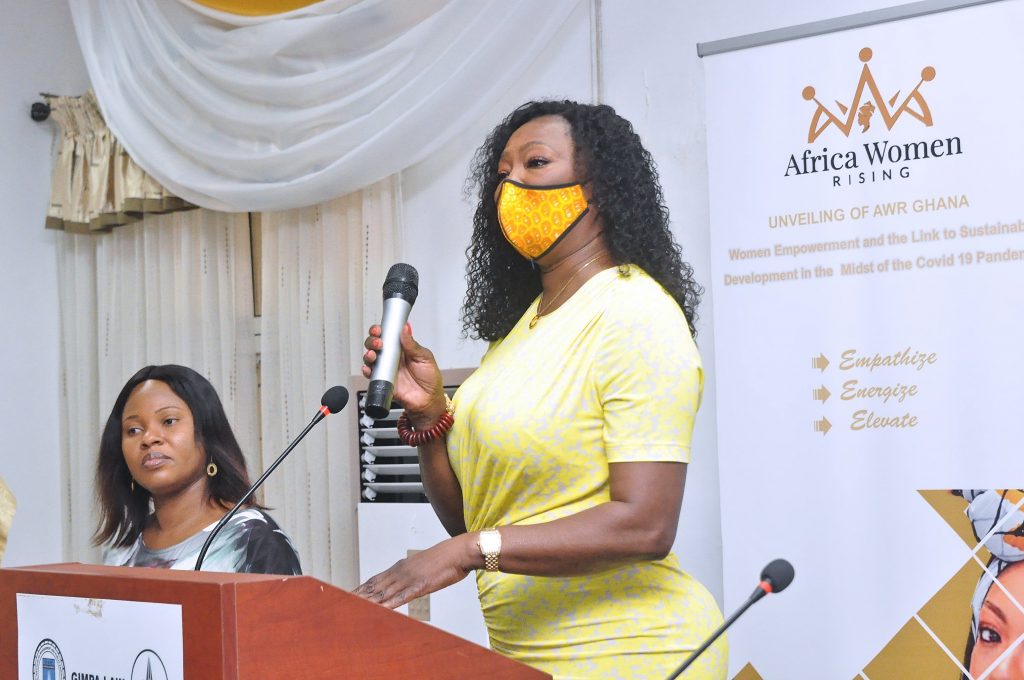 Ms. Constance Swaniker
Ms. Constance Swaniker, CEO of Accents & Arts, one of the women making waves in a male-dominated metal industry also addressed the gathering. Interestingly enough, her company
manufactured the AWR Plaque.
Ms. Swaniker started her remark by saying she gets alarmed by the figures that are announced
concerning graduate unemployment. She stressed the importance of young people being trained
to use their hands to help in industrialization. She used the opportunity to encourage women to
enter a trade and emphasized the need to be resilient in order to grow their business.
She added in conclusion that as a woman you need to know your self-worth, own your space,
stand out by doing an excellent job and voice out. She has also started a School of Design and
Technology for young people who want to work in her industry in order to give back to society.
Mrs. Janet Abobigu
Mrs. Janet Abobigu, CEO of Unijay Ghana Limited, also shared her story. She said in life we should
always ride on the back of challenges to achieve our desires. The fact that she could not go to
school because of poverty did not deter her from achieving her goals. She listed a few traits of a
successful businesswoman;
A good marketer
You should be dynamic
Always wake up early
Excellent at your craft
Prepare for challenges
Be humble
Have technical education.

She said, in conclusion, it's very important that we do not despise humble beginning as it is the
stepping stone to achieve greatness. It is important for us as women to acquire skills that we can
rely on for survival.
Dr. Petina Gappah
Dr. Petina Gappah, a representative of AFCFTA, enumerated some of the benefits we will derive
when it becomes fully operational;
Single market for all African goods, SME's and women businesses
Industrialization
Free movement of service and capital
Free movement of persons.
She intimated that it is important for Africans to collaborate with AFCFTA across borders to enable us to boost our economy and enjoy its full benefits.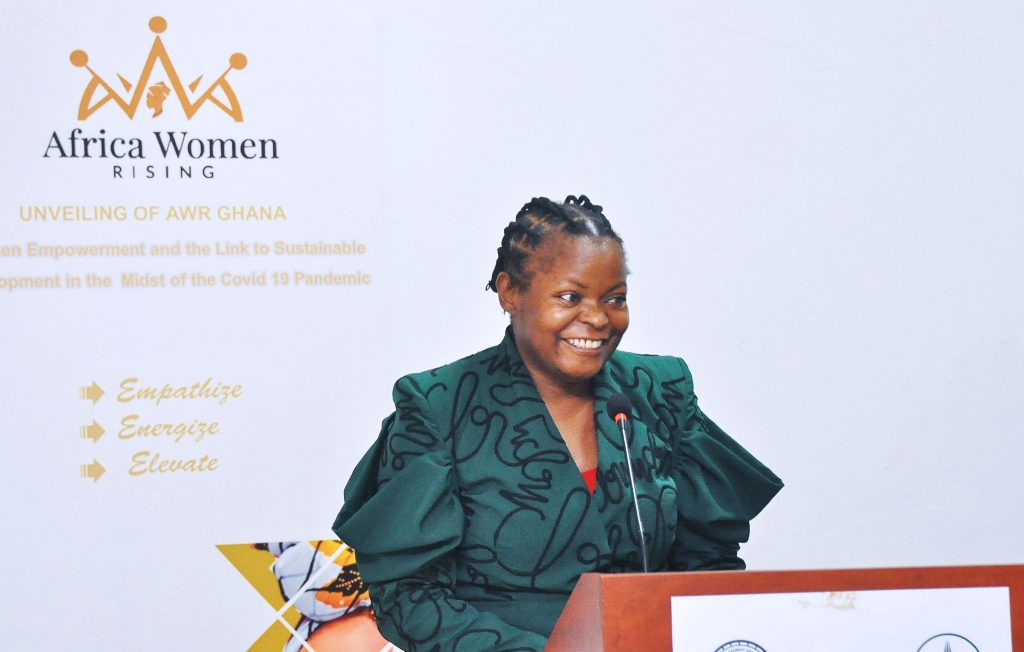 Ms. Ama Bawuah
In Ms. Bawuah's remarks, representative of the Second Lady, she stressed the importance of
self-worth by women because they have the ability to make choices. She said encouraging more
women to work results in better growth of third world economies as women's empowerment
increases economic growth, boosts productivity and income inequality.
She also touched on the importance of being vaccinated as women and influencing our
dependents to also get vaccinated in order to reduce the effects of the pandemic.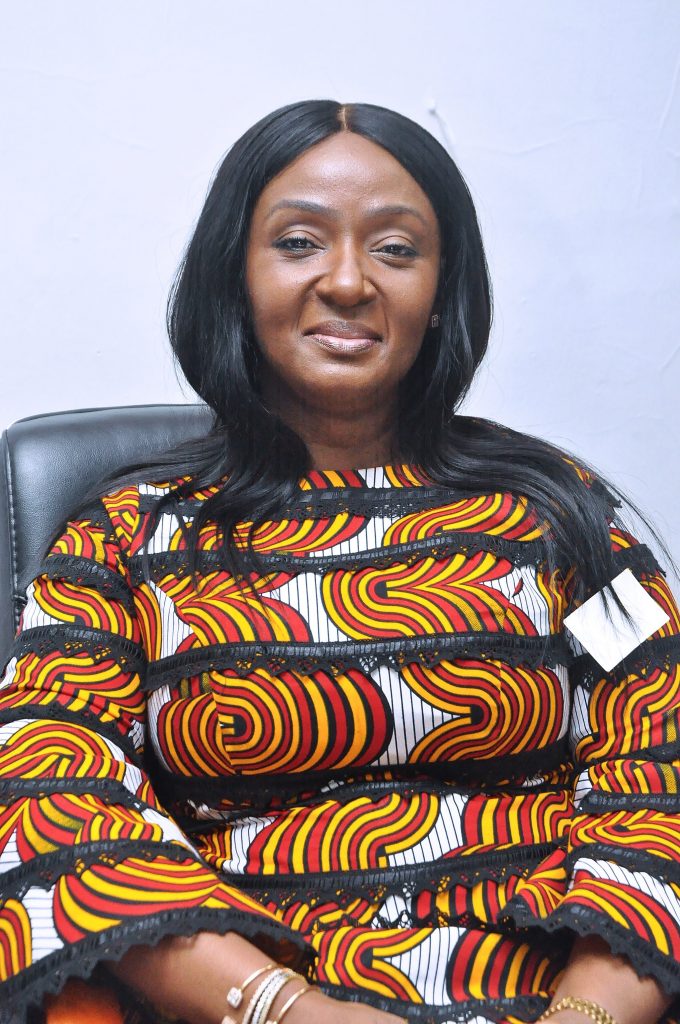 Mr. Akwesi Sarpong
In his remark, Mr. Akwesi Sarpong, CEO of Vulcan Holdings, said he is still blown away by the
passion Rev Mrs. Nana Sekyere has. The zeal she had on the first day they met when she
discussed her vision of CWR-Gh and now AWR has not changed and so he was encouraged to get
on board to help and he has not regretted it. He said, "I know this is the beginning, you are going
to go far". In conclusion, he reminded all gathered about a few qualities of a businesswoman;
Passion
Good business module
Planning
Good team
Money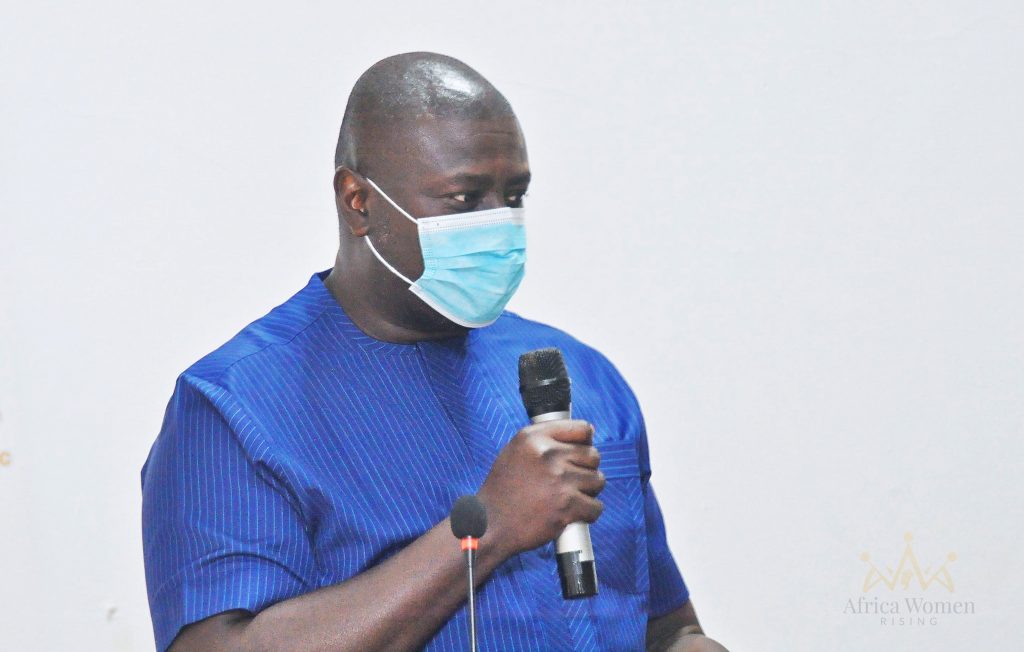 After the speeches, the AWR Plaque was unveiled by Mrs. Nana Sekyere together with members
of the Advisory Board, Ms. Constance Swaniker, and a few of the invited guests. Picture